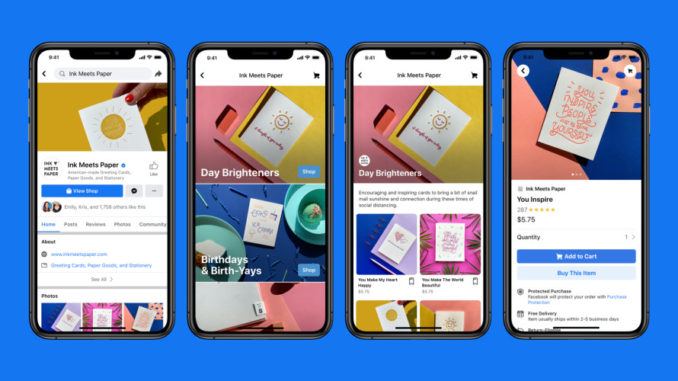 Today, Wednesday, Facebook launched the Facebook Shops service to facilitate and assist companies in creating a single online store, allowing customers to access it through Facebook and Instagram.
Facebook explained that the creation of the Facebook Shop is free and simple, as companies can choose the products they want to include from their product list, and modify the shape of their store through a cover image and distinctive colors that reflect their brand.
He added that this allows any seller, regardless of size or budget, to transfer his business to the Internet and communicate with customers wherever and whenever it is appropriate for him. He emphasized that people can find Facebook Shops on the Foundation's page on Facebook or Instagram or discover them through stories or advertisements, saying that he started offering Facebook Shops to become more widely available in the coming months,
Facebook also announced that it will launch this summer the Instagram Shop, which is a new place to discover products and brands, starting from the United States, where these stores provide a new way to discover and buy products in Instagram Explore, and can also browse collections from @shop and see the best of brands Creators, in addition to the ability to choose categories such as cosmetics, household products and purchase from one place. Also later this year, it will add a new Store tab in the navigation bar so you can access Instagram Shop with one click.
He pointed out that "a lot of small companies are currently suffering, and with the closure of stores, more are looking to move their business to the Internet", stressing that the goal is "to make shopping smooth and enable anyone who owns a small business and any global brand to use our applications to communicate with customers. For this reason We launch Facebook Shops and invest in the benefits of our apps that encourage people to shop and make buying and selling online easier. "
The author commented on the "direct shopping benefits" through the use of direct video to display the products, confirming that he is working on shopping products in real time, and that sellers, brands and innovators will soon be able to "tag" the products from the Facebook Shop or their catalog before starting the broadcast Direct, showing these products at the bottom of the video so people can click easily to learn more and buy. Facebook indicated that it has begun testing this feature with companies on Facebook and Instagram and will introduce it more widely in the coming months.
Regarding linking loyalty programs to the private account on Facebook, Facebook explained that it is testing ways to facilitate earning rewards from the institutions that users love for the application by enabling you to link loyalty programs such as the points program in the local cafe, to their account on Facebook, where they can see and track their points and rewards easily. Facebook will also discover ways to help small businesses create, manage, and show loyalty programs on Facebook shops
Facebook highlighted that it works closely with partners to give small businesses the support they need. They provide powerful tools to help entrepreneurs create, manage and move their businesses online. It will also help small companies to establish and develop their own Facebook Shops, and to use other Facebook business tools, in the hope that these tools will reduce the pressures that small enterprises are currently facing and help companies of all sizes prepare for the future.