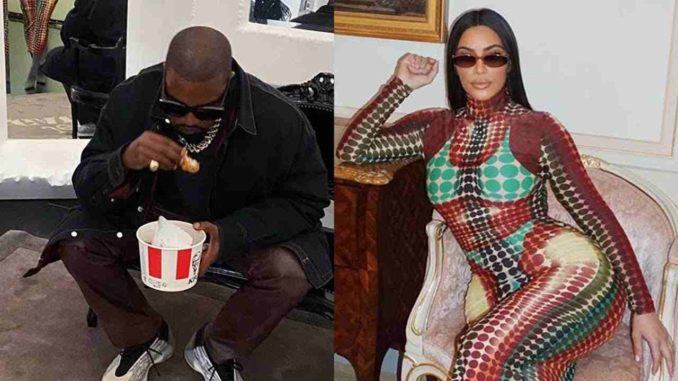 After the visit of Kim Kardashian and Kanye West to the KFC in Paris, a commemorative plaque was installed.
The star couple were seen at the KFC in Strasbourg-Saint-Denis, Paris, filmed from behind taking their order at a kiosk. A completely "WTF" scene that quickly went viral on social networks.
Wednesday, 19th February. KFC Strasbourg Saint-Denis, Paris. Kim Kardashian and Kanye West are struggling like anyone else to order their meal at a kiosk. What more can I say? A scene like we rarely see in a lifetime!
A small detour to KFC
Clients must have been hallucinating at this late hour. Seeing the world's most publicized star couple show up when you've only come to eat chicken, it must be a shock… On the video, no riot, no frenzied crowds, nothing. Kanye West presses a menu two or three times before giving up and taking her sweetheart to the checkout.
"JPG & KFC," the American class.

Internet users, feverish, first thought of a Fake. Until Kim Kardashian took the video back as an Instagram story. The couple were visiting their friend Jean-Paul Gaultier, whose shop is located in the same neighbourhood as the famous KFC.
On one of the star's posts, we can see her rapper husband devouring his "bucket" in peace… An offbeat scene that Kim K herself seems to enjoy, with this legend: "JPG & KFC." We've probably already seen more class at the Gaultier house, but we forgive them willingly…
A commemorative plaque
The episode of the theft of Kim Kardashian's jewellery during a previous stay in Paris in October 2016 did not stop the couple from returning to the French capital. And the gesture of the KFC of Strasbourg Saint-Denis should convince them to return even more regularly.
To pay tribute to the West's arrival in the restaurant, KFC France decided to have a golden plaque put up to celebrate this "new place of pilgrimage for fans of Kim Kardashian, Kanye West and chicken." More and more.